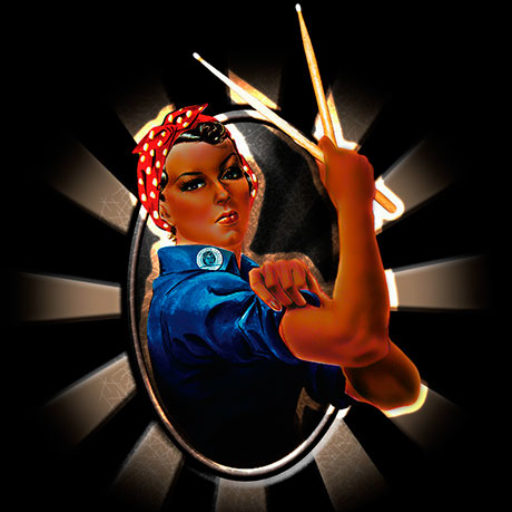 I'm Jaye Shaw, the creator of DrmHer. I've played drums for many years and performed with various bands and artists. I also teach Drums at my new home studio in Los Angeles. I play Rock, Hip-Hop, Blues and am open to all genres of music. Music has been my passion since I was eight years old.

Best Wishes,
Jaye Shaw
Around the age of eight Jaye wanted to play violin but her family couldn't afford it at the time. A couple of years later the family bought her a guitar and a few lessons, but she didn't have the passion for it and stopped. She continued to take dance, music, and art classes; and in grammar school she met a girlfriend that played snares. Jaye's interest in drums and percussion was sparked and she's never looked back.
In college she majored in music and percussion at Columbia College in her hometown of Chicago. She is also a graduate from Musician's Institute percussion program. Since moving permanently to Los Angeles, Jaye has played with various bands and artists all over Los Angeles playing rock, metal, pop, blues, and funk genres on the kit. Jaye also plays congas, bongos, Cajon, and other various world percussions. She has opened with a hip hop artist for Warren G., and played with Sunspot Jonz of Living Legends side project, The Temper Twinz. She has also done many international, national music videos, including a promotional video for Roland's NAMM show, and appeared on local cable TV shows.
Jaye also teaches drum set to students of all ages, and just launched her own company based on female drummers and musicians, www.drmher.com. Jaye is proud to be a part of the Soultone family.